About Spell Bent
Hidden away in the city of Toronto is an underground society of magical witches. They live in fear of being discovered by Carnifex, an ancient order of witch hunters. Non-magical residents or Voids are unaware of the battle being waged on their streets.
Halley Highcroft, a young witch, goes on a forbidden date with Bella Black, a Void woman. Bella is gravely injured and Halley's healing powers are revealed to the world by Skylar, Bella's 14 year-old sister. Skylar uploads a video to Instagram, setting off a chain of events that leads to Skylar's disappearance and Halley's best friend Killian being attacked by a Carnifex assassin.
Struggling with danger, dark secrets and forbidden love, Halley Highcroft must protect her covert society of witches from Carnifx and repair the damage she has unleashed.
Creating Spell Bent
Spell Bent was created by Jamie Hart. She conjured up the story world over a few rainy days whilst drinking numerous cups of tea and looking out over a misty canal from a cozy apartment in Dublin, Ireland.
Jamie wanted to create a present-day urban fantasy located in her hometown of Toronto, Ontario. In her Story World, there are Witches who have lived secretly amongst Voids (non-magical humans) for many centuries. There are approximately 10,000 Witches in North America, half of whom live in Toronto, a place they are drawn to because of its diverse and peaceful society, where they can avoid persecution.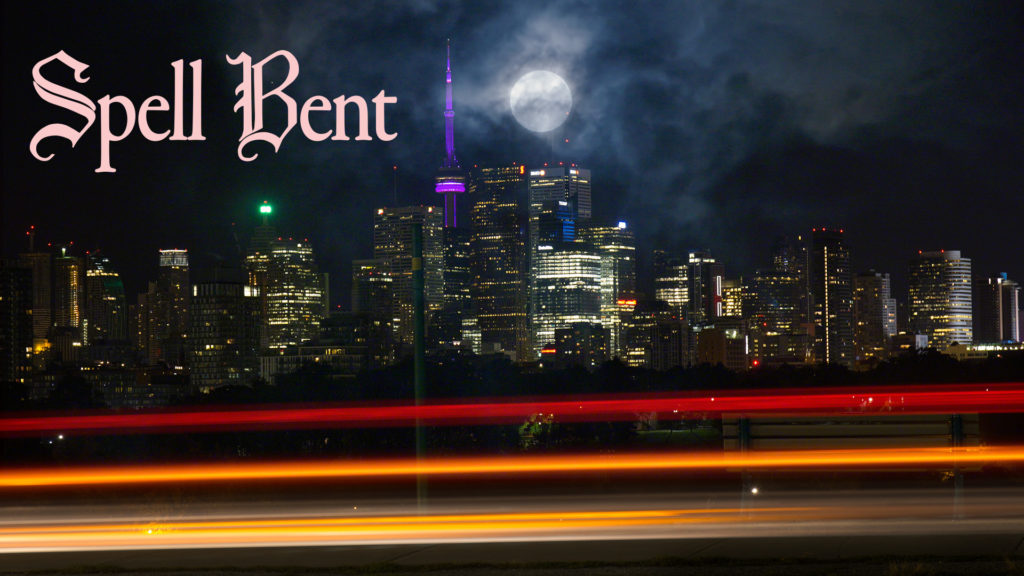 The Beevision Productions partners are Nina Beveridge (yours truly) and Paul Hart and we are also Jamie's parents. We were intrigued to have the chance to work with our daughter and the Spell Bent project presented the perfect opportunity to explore creating proprietary dramatic content. Paul Hart and I both have decades of experience creating, designing, producing and/or post producing factual content including sports, TV series (news/documentary/lifestyle/kids) and documentary films. We jumped at the idea of applying our experience and knowledge to a new genre.
Turbulence is an opportunity, not a threat
At the MIPCOM 2017 conference, I was inspired by the panels I attended. Significant turbulence in the broadcast TV industry meant that making deals with established studios and networks was no longer the only way to develop dramatic series and content that audiences wanted. Increasingly, independent producers are forming international co productions and working with emerging and established OTT platforms to produce serialized dramatic content.
The May 2018 CRTC report "Harnessing Change: The Future of Programming Distribution in Canada" stated "In examining today's marketplace and the direction in which it appears to be moving in the future, it is clear that the Internet has become essential to all Canadians, bringing global connectivity and making it part of people's everyday lives. This new reality has significantly disrupted Canada's audio and video marketplace—often in striking ways, though sometimes to varying degrees. Traditional media will be forced to evolve in response to this new reality."
In response to the CRTC report, the Bell Fund retooled their funding program strategy to support the creation of streaming video content. The newly created Bell Fund Slate program presented a fantastic opportunity for companies like Beevision to develop new forms of video content targeting digital audiences. We approached digital distribution/OTT expert Greg Rubidge to see if he would invest in the project and he agreed to come on board. We submitted an application to develop the Spell Bent series and the Bell Fund supported us.
Pre Development
During our pre-development phase the Beevision team of Nina, Paul and Jamie worked with the veteran writer/actor Sugith Varughese as our Story Editor. The script went through numerous revisions over the summer as we sought to create a script with the minimal amount of exposition, revealing information about the characters and their world only as needed. Sugith's 'CAGA' (character-action-goal-adversary) template was very useful. In the writing process we were careful to respect Jamie's Story World, staying true to her perspective on how her characters should look, behave and speak, and respecting her goal to convey a diverse society where LGBTQ+ characters fit seamlessly in an everyday world without having to prove themselves.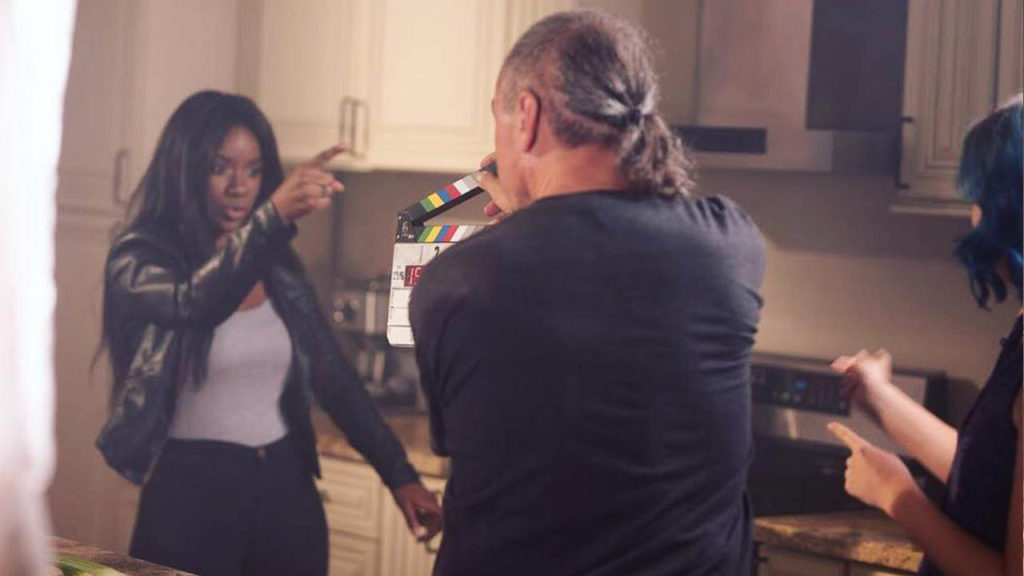 When casting Spell Bent we wanted a black female lead. We were fortunate to find Lory Mpiana who stars as Halley Highcroft. During table reads of the pilot script we gathered input from our cast and infuse some of their own personality traits into the characters they portrayed The discussions we had with our cast about their characters and the story as a whole helped us to better inform the script and backstories and create a robust story engine for the series. Read more about the characters and watch their interviews.
We filmed the pilot in Little India (Gerrard India Bazaar). Beevision produced a TVO documentary Little India: Village of Dreams for Canada's 150th and we got to know the Bazaar really well. We loved using all the nooks and crannies, laneways and vistas looking towards downtown Toronto. We were also very fortunate to have the support of Joe Saturnino, owner of the Revival Bar and Event Venue, for the location of The Owlet's Wing, the watering hole for Spell Bent's Witch community.
We were fortunate to connect with the multi-talented Dale Hildebrand who became our Director of Photography. Dale is a producer/director in his own right who had recently completed his beautiful film, shot in Italy and Hamilton, Road to the Lemon Grove. Dale loved the mood boards created by Jamie and a lighting plan was devised that drew influence from film noir, neon art and German expressionism (on a low budget!). We wanted to create a separation between looks, with the Void (human) world warm and washed in ambers and earth tones and the magical Witch world heightened in blues and purples, and filmed at night as much as possible.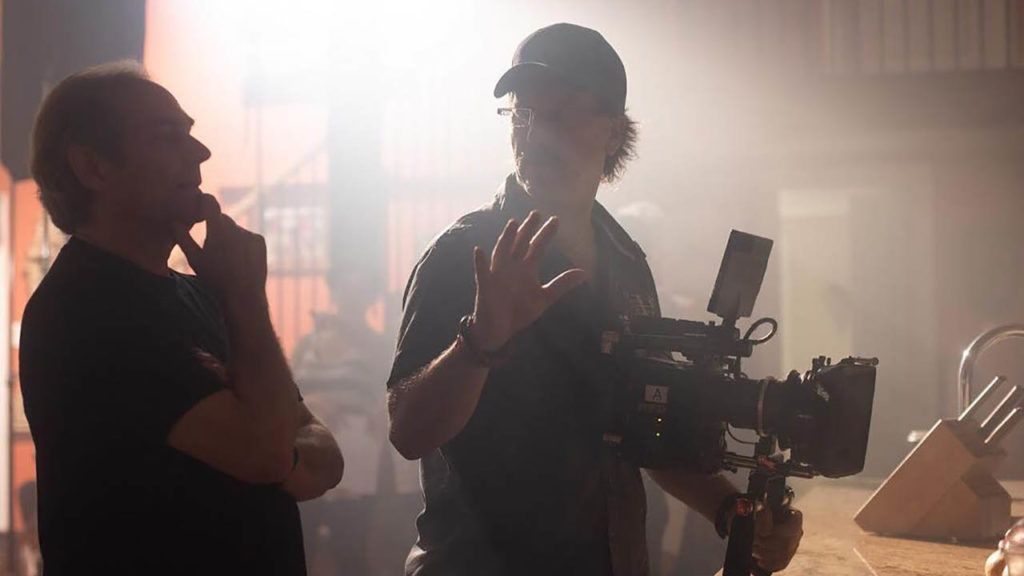 Paul Hart is also the Director and Editor of Spell Bent. His directorial approach included filming handheld to give the shots energy. The use of low-angle shots add tension to the story which builds to the end of the pilot. The scenes progress from sunny and cheerful to dark and foreboding and the pilot ends on a cliff-hanger.
Beevision was founded in 1993 as a broadcast design boutique and evolved over the years into a full service production company. For 25+ years we have utilized a variety of design, animation, compositing and editing tools in our studio. Paul has a large suite of software for editing as well as visual effects and colour correction. Having an in-house post facility makes the production of short form digital content feasible and it allows us to cost effectively tailor and finesse the visual effects required for Spell Bent.
Another great addition to the Beevision Spell Bent team is our composer Liam Hart. Liam is a talented musician, filmmaker and audiophile currently attending the Media Production program at the RTA School of Media. Liam scored the pilot with a balanced blend of romance and tension that builds to a dramatic cliffhanger, leaving the viewer wanting more. Glenn Barna provided his expertise to do the sound design and mix.
Our high energy Spell Bent theme song is called Born Strange and plays over the credits. It is written by Haley Bowery and the Manimals. Jamie met Haley at the Ice and Fire Con in Virginia. The Manimals are a self described Glam/pop-rock/punk band with teeth. The Manimals are Haley Bowery, Jack Breslin, Michael Jayne, Chris Sayre, and Matt O'Koren, based in Brooklyn, New York.
We built our website www.spellbent.com and uploaded interview videos with our cast to help support the project. We had some fun working with the entire cast to push the trailer out and build awareness of the project through our social networks. It was a tough decision to decide whether to go to YouTube or facebook but we felt that in the long run YouTube would give us more power, flexibility and control of the process to find our audience. We're working with our sister company and business partner Hop To It Productions, led by Producer Susan Nation (an expert in SEO practices among many of her skills) to build out our digital presence day-by-day and to create a strong Discoverability plan for the next phase.
In summary, having the opportunity to develop a creative product while exploring a new genre with your kids, combining the expertise of industry veterans behind the camera with emerging talent in front of the camera who are creating stories for their own peers, has been an enriching experience. We hope you watch and enjoy the trailer!
#SpellBentSeries