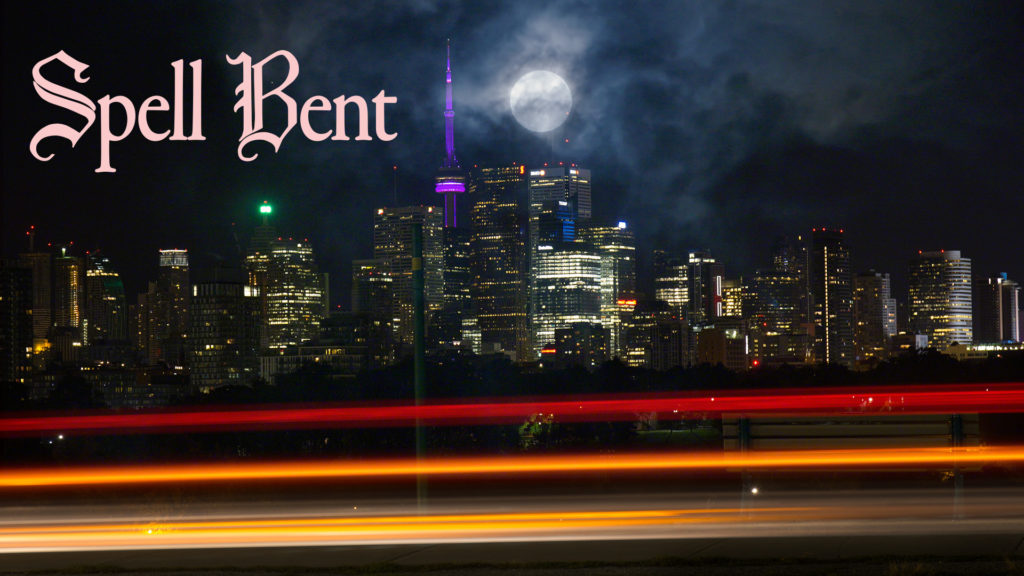 Spell Bent was created by Jamie Hart. She conjured up the story world over a few rainy days whilst drinking numerous cups of tea and looking out over a misty canal from a cozy apartment in Dublin, Ireland.
Spell Bent takes place in Toronto, Ontario. To avoid persecution, Witches have lived secretly amongst Voids (non-magical humans) for many centuries. Due to the need for secrecy there is no accurate count of the witch population in North America. However, in Toronto there are enough to keep the Guardians busy enforcing magical law. Witches have been drawn to Toronto by its diverse and tolerant society. One of the most popular witch hangouts in town is The Owlet's Wing, a bar owned by a witch. Though it still caters to Voids, many witches feel safe there, surrounded by members of their own community.
The witches follow a set of laws governing their use of magic, the most important one being "Never reveal magic to Voids". These laws are enforced worldwide by The Guardians. Guardian units exist in witch communities around the world, and they are mostly left to govern their own witches as they see fit. The Toronto Guardians, the local magical police unit and emergency response team, is lead by Captain Luna.
Witches are permitted to interact with Voids, but are looked down on for it. They are not allowed to marry Voids and dating them can put their jobs and social status at risk.
Witches have an extended life span but are not immortal. The average witch lives to be 200 years old. They reach maturity at age 18, but age slower than the average human. Magic is genetic and witches cannot be born without witch ancestry.
More than a thousand years ago Carnifex, an ancient order of Roman executioners, drove the witches into permanent hiding. To insure a witch is killed and not allowed into the afterlife, the Carnifex use a special poison. This poison is usually but not always, delivered with a blade. Although there have been persistent rumors, it has been decades since there was a known death by a Carnifex hunter. People whispered that perhaps the parents of Halley and Malchior Highcroft were murdered by Carnifex, but those rumours were never substantiated.

Carnifex: The Religion
Carnifex is an ancient society of witch hunters. It was created by the Roman executioners of the same name. Followers of a god named Venen, they believe he created the world and is a force of light fighting to purify the planet for humanity.
According to Carnifex, Venen's most fearful adversary is Igni, who created the witches. Venen's acolytes will enter the afterlife as heroes if they execute witches because magic is a danger to his power. Venen creates powerful agents to do his bidding in exchange for immortality and eternal youth. These agents are the leaders of the Carnifex factions, and must recruit more mortal members as part of their pact.
Venen is represented as a young man in a dark hood, often carrying a dagger. Igni is represented as an elderly woman, usually surrounded by fire and carrying a spell book.
In contrast to Carnifex, the witches worship Igni, who they believe created the world. They believe that they are her descendants, and that Venen is the God of murder and will bring about the end of the world.